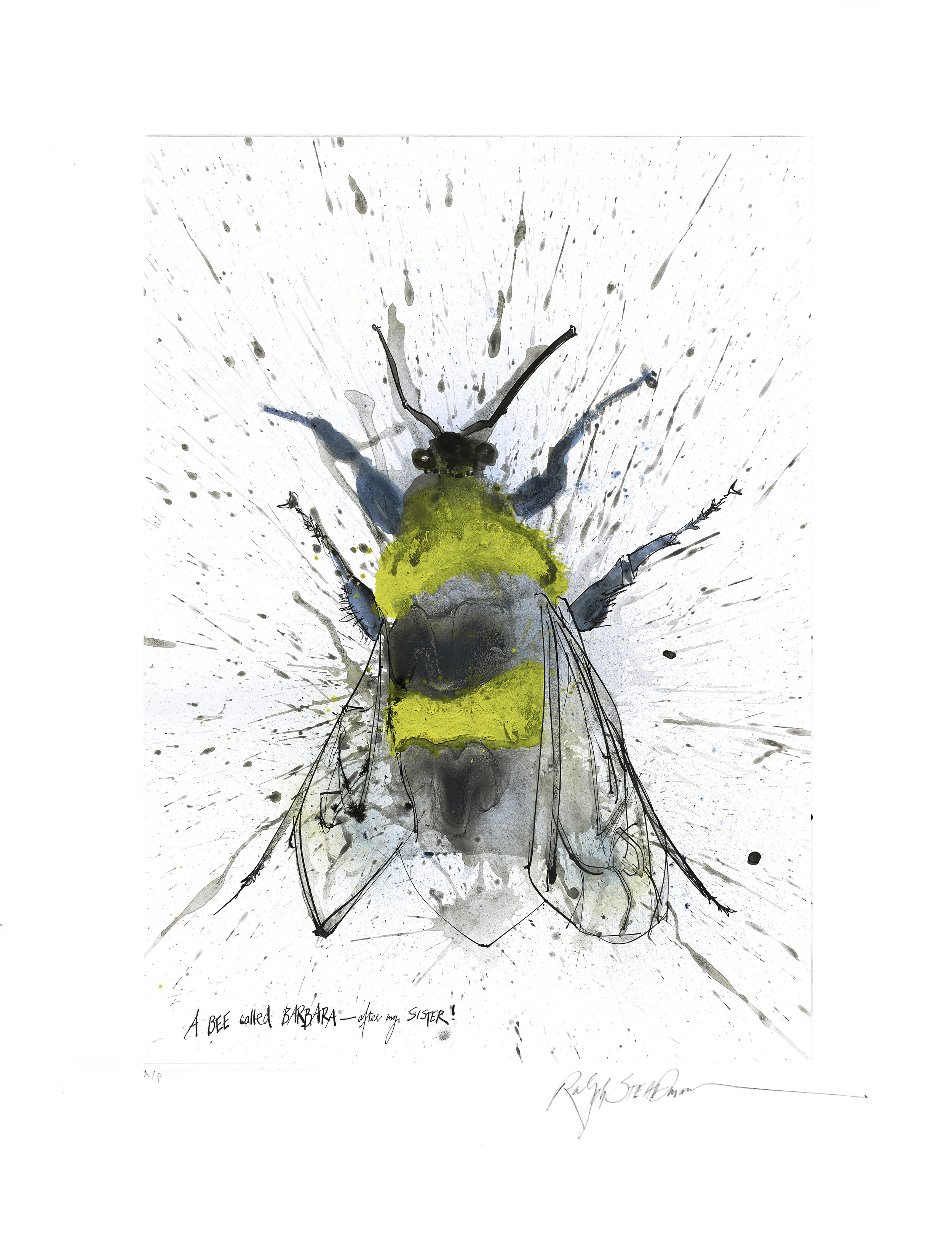 Hot off the press, Goldmark Gallery in Orange Street, Uppingham, hosted an evening with world-renowned artist Ralph Steadman and Rutland author and filmmaker Ceri Levy to open an exhibition of prints from their new book, Critical Critters, on Friday.
It is the third wildlife book from self-proclaimed 'intrepid duo', who have combined art and conservation to coin the hybrid term "Gonzovationists" as part of their awareness campaign.
Ralph, who is famed for his illustrations of works by Hunter S. Thompson such as Fear and Loathing in Las Vegas and Ceri, who produced Bananaz, a music documentary film about Damon Albarn's cartoon band Gorillaz, both have a vested interest in wildlife conservation and want to raise further awareness of endangered species through the exhibition and sales of the book.
Gallery director Mike Goldmark said: "There was standing room only in the gallery on Friday for Ralph and Ceri's talk about the project.
"They're quite the double-act and the audience was treated to stories and anecdotes from the book's journey, including how each piece is created."
Ralph's technique was discovered quite by accident when he spilled some dirty paint water on a sheet of paper and saw its potential to become a critically endangered Humphead Wrasse.
Since then he's collaborated with Ceri to paint more than 100 endangered species by what he calls his Ralphschach Technique.
Among the animals in the book are elephants, lions, rhinos and the Giant Panda, as well as lesser known creatures such as the Aye-Aye, and the Indri-both endangered lemurs of Madagascar.
Each piece is set alongside words, stories and diary entries from Ceri, explaining the creative process and a witty commentary of the conversations that revolved around them, along with key information about each species.
Mike added: "We've published 24 signed and numbered prints in tiny editions of 50 copies only, which will be on exhibition and for sale at the gallery for the next few weeks. We were delighted to hear that Ralph thought that these were the best prints that had ever been made of his work.
"It was such an honour to have Ralph and Ceri here to launch the exhibition and they attracted a star-studded crowd, including musicians, writers and DJs, as well as a great audience from the local area. Thanks to everyone who supported it.
"Ralph left a lasting impression by painting his signature on the gallery wall in his classic inky style, so we'd encourage visitors to pop-in and take a look, as well as understanding the underlying message that these creatures are all endangered and we all must be 'Gonzovationists'."
Goldmark Gallery is open 9.30am – 5pm Monday to Saturday and 11am – 4pm on Sunday. Ralph Steadman prints are priced £485 for the print alone or £635 for a framed print. Hardback copies of Critical Critters are available to buy for £35.
Notes to editors:
Photo credit - Jay Goldmark
Mike Goldmark, Ralph Steadman and Ceri Levy at the opening of the exhibition
http://mediaserver.dwpub.com/mediabank/51026/ralph%20steadman%20exhibition-mike%20goldmark%20ralph%20steadman%20ceri%20levy.jpg
An audience with Ceri Levy and Ralph Steadman
http://mediaserver.dwpub.com/mediabank/51026/ralph%20steadman%20exhibition-ceri%20levy%20ralph%20steadman.jpg
Ralph Steadman - Bee
http://mediaserver.dwpub.com/mediabank/51026/ralph%20steadman%20bee.jpg
About Goldmark Gallery:
<iframe src="https://player.vimeo.com/video/215211719" width="640" height="360" frameborder="0" webkitallowfullscreen mozallowfullscreen allowfullscreen></iframe>
For more information email megan@rural-roots.co.uk or call 07730 599358